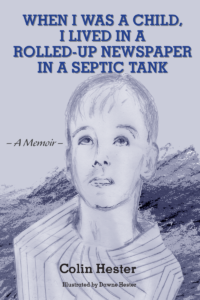 Coming October 2023
Christmastime, 1958, Toronto, Canada: A young boy and his beautiful older sister are benightedly sent by their parents back to England to live in a tiny house, home of their paternal grandparents and dozens of cousins and uncles and aunts: a cramped fiefdom controlled, dominated and ruled over by one of contemporary fiction's great besieged despots: their penniless grandmother, Nan Hester.
The boy sleeps at the foot of his three uncles' bed; they are fed crusts of bread at dinnertime on the floor beneath the dining room table; and they attend a school whose headmistress despises "Americans" and who wields her specifically selected beechwood cane like a whip.
Incredibly, the boy and his sister endure. They challenge, surmount and eventually prevail, aided of course by deft and provident angels: their guardian Uncle John, their sweet maternal grandparents, and, eventually, their beatific and beautiful father, who at their most horrific moment rescues them and gathers them home.
Colin Hester's first two novels Diamond Sutra and Death and the Butterfly, and his chapbook of poetry, also titled Death and the Butterfly, were published by the legendary editor Jack Shoemaker of North Point Press and Counterpoint Press. Jack's retirement in January of 2023 precipitated Jayne and I signing Hester's heartbreakingly beautiful and ultimately triumphant memoir.